ASA Paintball & Airsoft: Best Outdoor Paintball Center Near Montreal
Introduction to ASA Paintball
Welcome to ASA Paintball, your first destination for a day of outdoor paintball, located just 30 minutes from Montreal on the South Shore in Montérégie. Located at 725 4e rang Sud St-Jean-sur-Richelieu (Iberville sector), we offer an unparalleled Paintball experience that combines adrenaline, strategy and camaraderie. Visit our website at www.asapaintball.com or call us at 1-888-889-2489 to book your game today.
What is Paintball?
Paintball is a thrilling, fast-paced sport that involves two teams competing to eliminate each other by hitting opponents with dye-filled, breakable, oil and gelatin paintballs. It's a game of strategy, teamwork, and skill that provides an exhilarating outdoor experience.
The South Shore of Montreal: A Paintball Haven
ASA Paintball is located on the South Shore of Montreal, an area renowned for its breathtaking natural landscapes and numerous outdoor recreation opportunities. Our prime location paves the way for an unforgettable paintball adventure.
We are located just 30 minutes from Montreal, in Montérégie on the South Shore. Our site, at 725 4e Rang Sud St-Jean-sur-Richelieu (Iberville sector). With a unique design and meticulous layout, our facility is optimized to meet the expectations of each player.
The Outdoor Field: A Closer Look
Field Features
Our outdoor paintball field, ranked number one in Quebec and located near Montreal, just 30 minutes away from Montreal city, in the Montérégie region on the South Shore. We offers a wide range of fields suitable for players of all levels. Each field is meticulously designed to provide a unique playing experience every time.

You will find a variety of exciting facilities including Embassy / D-Day, Favela, Tires, Church / Hospital / Ship, Marine One / Alcatraz / Navy Seal, fortress and a professional speedball field. These structures and obstacles enhance gameplay, promoting strategic decision-making and creating an immersive and realistic paintball adventure.
Safety Measures
Safety is of the utmost importance at ASA Paintball. We prioritize the wellbeing of all players by ensuring they are equipped with top quality protective gear. This includes masks, camouflage uniforms and breastplates specially designed for girls.
Our commitment to providing reliable, high quality safety equipment ensures that every player can enjoy their paintball experience with confidence and peace of mind.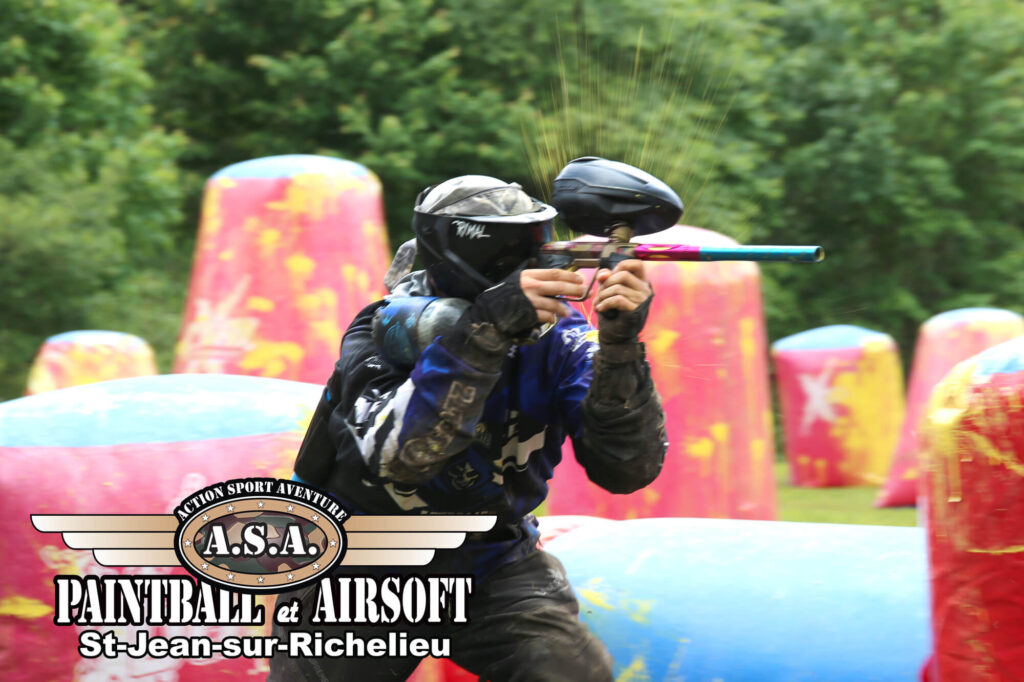 Why Choose ASA Paintball center near Montreal?
Unmatched Game Experience
ASA Paintball takes great pride in providing an unparalleled paintball experience. Our games are meticulously crafted to provide an exciting and engaging adventure for players of all skill levels, catering to beginners and seasoned veterans alike.
We believe in creating an inclusive and enjoyable environment where everyone can participate, challenge themselves and have a memorable time. Whether you're just starting out or a seasoned pro, our games will keep you entertained and coming back for more.
High-Quality Equipment
At ASA Paintball, we are committed to providing players with top-of-the-line equipment to enhance their playing experience. Our markers are known for their reliability and user-friendly design, which allows players to easily engage in fast-paced action.
Additionally, our high-quality paintballs ensure accurate shots and contribute to a fair and competitive gaming environment.
We spare no effort to ensure that every player has access to quality equipment, allowing them to fully enjoy their paintball adventure with confidence and precision.
Expert Staff and Support
Our team of knowledgeable and experienced staff are always ready to offer advice and support. Whether you're a newbie in need of an in-depth rules overview or a seasoned veteran looking for advanced strategies, our dedicated team is here to help you every step of the way.
We understand that every player has unique needs and goals, and we are committed to providing personalized attention and support to ensure your paintball experience exceeds your expectations.
Count on our staff to be available, approachable and eager to help, making your stay at ASA Paintball truly exceptional.
Preparing for Your First Game
What to Wear
When practicing paintball, it is crucial to wear an outfit that is both comfortable and suitable for potential soiling. We strongly advise you to wear long pants, a t-shirt or a long-sleeved shirt and sturdy shoes.
It's also a good idea to bring a change of clothes for convenience after the game. By following these recommendations, you will be well prepared for an enjoyable paintball experience while maintaining your comfort and readiness for action.
Game Rules and Etiquette
Before the game begins, our staff will provide a full briefing on Paintball rules and safety guidelines. It is essential to pay particular attention to and respect these rules in order to maintain a safe and pleasant environment for all participants.
Respecting the rules and showing consideration for other players is of the utmost importance, as this ensures that everyone can fully engage in the game while having a fun and safe experience.
Conclusion
Whether you're hosting a birthday party, corporate event, or just looking for an exciting day out with friends, ASA Paintball is the perfect destination. With our exceptional facilities, our qualified staff and our exhilarating game scenarios, we promise you an unforgettable paintball experience. Our offerings cater to a wide range of occasions, including:
Birthday parties (12 years and over)
Corporate events
Family gatherings
Group outings with friends
Youth sports teams
And much more!
Whatever the occasion, ASA Paintball provides the perfect setting for camaraderie, competition and non-stop fun.
FAQs
Do I need to be an experienced player to participate in Paintball?
No, Paintball is accessible to players of all skill levels. Whether you're a beginner or an experienced player, you are welcome to join in the fun!

What is the minimum age to participate in open days?
The minimum age to participate in open days is 12 years old. However, players under 18 years old must have a waiver form filled out and signed by a parent or legal guardian. They should bring the completed form with them on the day of the open day registration.

Do I need to bring my own paintball equipment?
No, ASA Paintball provides all the necessary equipment for playing paintball, including paintball markers, protective masks, camouflage uniforms, and paintballs.
For any additional questions, please feel free to contact us directly 1-888-889-2489. We look forward to welcoming you to ASA Paintball, the ultimate paintball experience near Montreal.